20+ Absolute Best Things to do in Canmore in Winter
Looking for amazing things to do in Canmore in winter? We got you covered. Canmore is one of our absolute favorite mountain towns in the Canadian Rockies – a place we have been visiting since 2011. It is often overlooked by visitors traveling to Banff, and hence it is less crowded!
Canmore Winter Activities: Things to do in Canmore in Winter
Disclosure: This post contains affiliate links. If you click one of them, we may receive a small commission at no extra cost to you.
Canmore is a picturesque little town, surrounded by amazing mountain views, tons of outdoor activities, walking trails, restaurants, and wildlife to boot. It has been a local crowd puller for years because of its close proximity to Calgary and Banff. Plus you will love that it has no park fees, but still welcomes you to breathtaking scenery.
Where is Canmore located?
So where is Canmore located exactly? Canmore is located in the province of Alberta. It is about 20 minutes outside of the national park boundaries of Banff.
Because Canmore is not a national park, you do not have to pay any park fees.
When traveling from overseas, you will arrive at Calgary International Airport – YYC, and then take a bus or drive to Canmore. It takes about 1 hour 10 minutes to reach Canmore from Calgary. So drive east on the Trans-Canada Highway 1 to Canmore.
Canmore Winter Temperatures and Months
Canmore's winter season kicks in around mid November, and lasts until February. Some years it has been cold until early March, and you can see snow as you drive from Edmonton or Calgary to Canmore.
It is important to keep in mind that it is extremely cold in the winter months. Here are the average temperatures
November: 1 degree C (34 F) High/ – 8 degree C (18 F) Low
December: – 4 degree C (26 F) High/ – 13 degree C (8 F) Low
January: – 4 degree C (26 F) High/ – 13 degree C (8 F) Low
February: 0 degree C (33 F) High/ – 11 degree C (12 F) Low
March: 5 degree C (40 F) High/ – 7 degree C (19 F) Low
In the months of December and January, it is very cold at – 4 degrees Celsius and a low of – 13 degrees Celsius. During this time, it is perfect for skiing, snowshoeing, and other winter activities.
Driving in winters in Canmore
The best way to explore Canmore and the Canadian Rockies is by car. You can easily get a car rental from Calgary or Edmonton International Airport and drive to Canmore.
Remember to get your valid driver's license, and insurance.
Winters in Canada are a little challenging, especially when driving in the snow. We have lived in Alberta, Saskatchewan, and Ontario and we can tell you if you are new to winter driving – take it slow. In winters you have to be mindful of the cold temperatures, blowing snow, wind chill, low visibility, etc.
Here are some quick tips to help you prepare,
Number one tip is to drive slow. Driving slow will keep you safe on slippery roads, when there is blowing snow – low visibility, or when making a turn
Add extra travel time to your road trips. Winter travel can cause delays in arriving at your desired destination, so keep that in mind when you plan
Pay attention to local news alerts, road closures, diversions, avalanche warnings, etc. Follow these guidelines to stay safe
Try to complete the major portion of your trip during the day, when there is enough sunlight. Evenings fall early at around 05:00 pm, and it is completely dark by 6:00 pm in the winters
Keep your gas tank full (incase you are stranded)
Also keep a warm jacket, scarf and non-perishable snacks inside the car
Ensure you have an emergency car kit
Click to read our Canada road trip planning guide
20+ Things to do in Canmore in Winter
Canmore winter activities include skiing in the local ski resorts and also at the Banff National Park. But there is so much more to winter than just outdoorsy activities.
We have included adventure and slow travel Canmore activities for you to choose from.
Admire the views of Three Sisters Mountain Range
The Three Sisters is the name given to a range of mountain peaks in Canmore. You will see them following you all across town. These 3 peaks are individually marked and known as big, middle, and little sister, and hence the name 'Three Sisters'.
Each peak signifies the following Faith (Big Sister), Charity (Middle Sister), and Hope (Little Sister).
Admire the historic Canmore Engine Bridge
Canmore Engine Bridge is a historic attraction in town. It was built by the Canadian Pacific Railway (CPR) in 1891 and is remarkable for its rare vertical end posts.
In the winter, you will find fewer crowds and that makes it easy to admire the bridge and the mountains. From one end of the bridge, you can see stunning mountain views, and the beautiful Bow River flowing underneath.
Address: Spur Line Trail, Canmore, AB T1W 1V9
Costs: Free
Walk the Policemen's Creek
The Policeman's Creek is an easy walking trail located close to the Main Street of Canmore. There is a wooden boardwalk that runs through the creek, surrounded by mountain views. It connects the main road to a residential block.
You can access the trail in the winter, just ensure you are wearing winter boots. Dogs are allowed here as long as they are kept on lease.
The creek is named for the N.W.M.P. barracks that were built close by.
Address: Policemen's Creek Trail
Costs: Free
Visit Northwest Mounted Police (NWMP) Barracks
Right next to the creek is the Northwest Mounted Police (NWMP) Barracks.
The Barracks was built in 1893 and served until 1929 as the lodgings, office, and jail for the police officers of Canmore. You can visit the museum and site all year round.
Address: 609 8th Street, Canmore, Alberta (free street parking)
Costs: By donation
Go ice climbing
Ice climbing is one of the popular winter activities in Canmore. In fact, Canmore and the Canadian Rockies offer some of the best ice climbing in the world.
Here you will find beginner climbing areas, as well as challenging ones. If you are new to ice climbing, you can join Yamnuska Mountain Adventures – they offer a variety of ice climbing classes for all skill levels.
The ice climbing season in Canmore and the Canadian Rockies is typically from November to the end of April depending on temperatures and elevation.
Join a Grotto Ice Walk Canyon Tour
The Grotto Canyon is located about 10 minutes east of Canmore. In the winter, the Grotto Canyon Creek Trail leads you to a frozen paradise.
If you are up for a unique activity in Canmore in winter, consider embarking on an ice walk tour with a guide to the Grotto Mountains. These tours are for 4-5 hours and they start from Canmore.
A guide takes you, trekking on snow-covered surfaces and you can explore icefalls and rock formations along the way, as you arrive at the Grotto Mountains.
This tour is great for those who are new to ice or snow sports as the walk and hike are not difficult. Book here for your winter hike tour for the Grotto Mountains.
Stay in a resort with mountain views
Canmore in winter is snowy heaven. We particularly love visiting Canmore at the start of winter, and then later during the holiday season – when cabins are all decked up in festive cheer!
Try to book an accommodation that has a nice fireplace, large windows or with a private balcony to take in the views of the Three Sisters – you will love this as the mountain ranges look magical when it is covered in snow.
Many travelers will stay overnight in Canmore and then drive to Banff National Park every day.
Here are some of our favorites resorts and hotels in Canmore for a festive and gorgeous stay:
Go cross country skiing at Canmore Nordic Provincial Park and nearby areas
You can enjoy world-class cross-country ski trails in Canmore and the nearby Kananaskis Country. Let's start with the Nordic Centre Provincial Park.
This park is located immediately west of Canmore, and it was the host of the 1988 Winter Olympic games. It is one of few operational Olympic Nordic Skiing centres in the world, and offers a wide variety of recreational activities including cross country skiing, and also hosts regional, national, and international events all year round.
If you are new to skiing you can join a class as well. Ski equipment rentals and passes can be purchased at the Provincial Park.
Address: 1988 Olympic Way, Canmore, AB
Costs: Varies. There are different levels of fees at the Canmore Nordic Centre. A day pass starts at $15 CAD per person. Passes are required for cross-country skiing and fat biking. Check the website here
Ribbon Creek Cross Country Ski Trails is another option. These trails are located about 40 minutes outside of Canmore and it offers 60 km of scenic, maintained cross-country ski trails at the base of Nakiska Ski Area.
Mount Shark Cross Country Ski Trail is another option and is perfect for advanced skiers. These trails are located about a 39 km (24.23 miles) drive from Canmore.
Go ice skating, snowboarding and more in Canmore
If you are not into skiing? No problem. You can go ice skating, tobogganing, play winter golf, and more in Canmore.
Canmore Nordic Centre is the place to go for tobogganing, fat biking, and other winter sports. You can even hang out at the Day lodge, or just explore the centre and learn about the 1988 Olympics at the provincial park. 
Address: 1988 Olympic Way, Canmore, AB
Canmore Skating Pond is a great spot to go ice skating in the winter. It is free for you to use. However, there are no skate rental options nearby.
Address: 1100 7 Ave, Canmore, AB T1W 1Z1
The Canmore Recreation Centre has two ice skating rinks and multipurpose events rooms that are open for private events. At the center, you can also enjoy an outdoor skate park and sports field. You can book activities here
Address: 1900 8 Ave, Canmore, AB T1W 1Y2
Canmore has over 5 ski resorts located close to town, and you can go downhill skiing and snowboarding here.
Admire frozen waterfalls
Canmore Kananaskis is a wonderful location to chase frozen waterfalls.
Yes, when the temperatures drop, these waterfalls turn into an ice miracle, with unique formations. As long as you have warm clothing and shoes with cleats you can soak in these Narnia-like marvelous sights.
These are the places where you can check out these frozen waterfalls (they are located 10-30 minutes from Canmore, but are within the Kananaskis Country)
Marmot Falls
Elbow Falls in Bragg Creek
Sheep Falls
Johnston Canyon Upper and Lower Falls
O'Shaughnessy Falls
Enjoy culinary delights at a Canmore downtown restaurant
When in Canmore you gotta enjoy its culinary scene! Downtown Canmore has tons of restaurants, bars, and cafes, and during the winter season they are decorated beautifully, and many also serve a festive seasonal menu.
Our favorites in Canmore are
Aroma Mexican Café – The interior of this café takes you to Mexico. Try authentic Mexican food and Jarritos.
Spice Hut – Spice Hut is an East -Indian restaurant. They offer the best chicken dishes in town. Try their delicious Chicken Masala and rice.
JK Bakery Cafe – JK Bakery was started by a German man, they serve baked items like cakes, cookies, pastries, samosas, sweet pies, and also artisan bread.
The Rocky Mountain Bagel Co – If you love bagels, they can find a lot of varieties here.
The Wood Lounge – The Wood Lounge and Restaurant offers a great draft selection, and appetizers.
Go on an easy winter hike on the Bow River Loop Trail
Enjoy an easy hike on the Bow River Loop Trail, of 1.2 km (1.2 miles). In this route, you can also cross the pedestrian bridge (by Riverside Park), and soak in Rocky mountain views.
The Bow River gets its blue turquoise waters from the glacier. You can easily enjoy this trail at all times of the year. However, be mindful of the slippery surfaces in the winter and early spring months.
Address: Spur Line Trail, Canmore, AB T1W 1V9 (start from the Engine Bridge)
Enjoy a hot tub or spa overlooking the mountains
To make your winter trip to Canmore even more exciting, book a hotel with an outdoor pool or hot tub where you can soak in your tired body whilst admiring the mountains.
There are many options in Canmore. Our favorite one is Falcon Crest. We like that their rooms are spacious, and they have a nice outdoor pool as well. You can check out Falcon Crest Lodge here.
Attend the Canmore Winter Carnival
Every February the town of Canmore along with the department of Tourism Canmore Kananaskis organizes an annual event to celebrate the winter season.
This event lasts for a couple of days and has free and paid activities. There are ice cravings, log sawing, and eating competitions (BeaverTails – yum!). It is held across the town, in various locations including the Nordic Provincial Centre.
You can check for the next year's festival dates here.
Soak in the festive cheer at the Main Street of Canmore
Canmore downtown is an amazing destination to spend your winter vacation in Canada. With mountain views accessible from anywhere in the town, there is not a single dull moment here.
Just remember to dress warmly, and then head to Main Street, admire the festive cheer, decorations, go Christmas shopping or stop for a warm meal!
Enjoy a scenic drive in Kananaskis Country in the winter
Winters are amazing in Canada, and driving through the mountains is a mesmerizing experience. As you drive from Calgary and reach closer to Canmore, you will be mesmerized by the peaks of the Canadian Rockies.
One of our memorable winter drives in the mountains was to the Bow Valley Provincial Park, starting from Canmore.
Another one was to the base of Ha Ling Peak (Spray Valley Provincial Park) whilst soaking in the views of the town of Canmore from above!
You can also enjoy your drive from Canmore to Banff National Park, and hit spots like Lake Louise, and back. Lots of options to choose from, just remember to follow winter driving guidelines.
Hit snowshoeing trails in Canmore
There are snowshoeing trails for all skill levels available in and around Canmore (Kananaskis Country). You must carry snowshoes with you as there may not be a lot of rental options available nearby – so be prepared ahead of time!
Upper Grassi Lakes Trail Loop is one of the easy snowshoeing trails. This 4.3 kilometer (2.6 miles) is a heavily trafficked loop trail featuring a stunning lake, and this route is accessible year-round.
Chester Lake is another good option. AllTrails labels it as a moderate level.
Chester Lake Snowshoe Trail is a 7.1 kilometer (4.4 miles) loop trail located in Peter Lougheed Provincial Park near Kananaskis Country. Wear snowshoes on this route. You can use sturdy winter boots with cleats if you like – but to complete the loop safely ensure you are wearing the proper gear.
Hang out at the Mount Engadine Lodge with afternoon tea + heli ride
Mount Engadine Lodge is located about an hour away from Canmore. It is located in the Spray Valley Provincial Park, and it is a delightful visit in the winter. You can stay there overnight and enjoy snowshoeing, a high-speed dog sledding trip, or relax and join in for an afternoon tea.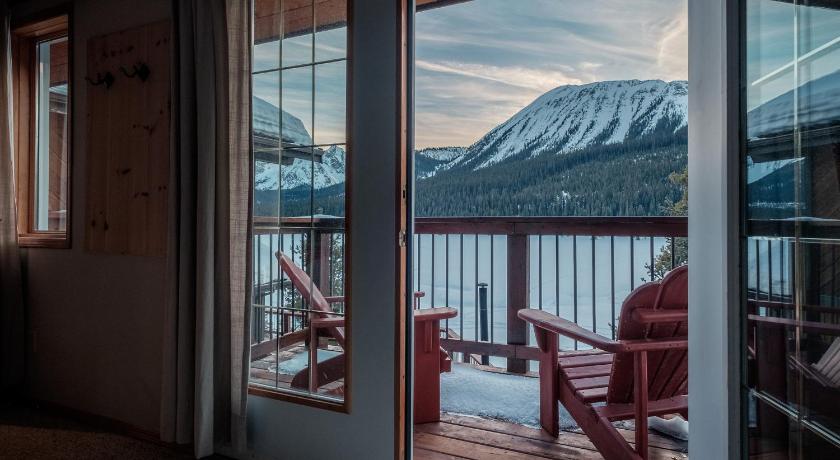 For the ultimate winter experience, you can visit the helipad and fly with Alpine Helicopters for an uninterrupted view of the Canadian Rockies, and the snowy paradise. You can book your stay here
Go ice fishing at Spray Lakes
Spray Lakes Reservoir is located in the Spray Valley Provincial Park. If you love ice fishing, this provincial park is the place to be. There are quite a few spots where you can enjoy ice fishing including the Spray Lakes day-use areas, Driftwood, and Sparrowhawk.
We can also go on winter hikes, snowshoeing, and ice skating at the Spray Lakes.
Enjoy dog sledding in Canmore with Snowy Owl Sled Dog Tours
When in Canmore join a dog sledding tour with Snowy Owl Sled Dog Tours.
They are a Canmore-based company, and these tours range from 2 hours to 2 days. You will be led by their expert guides into the snowy winter wonderland, while you snuggle into the blankets and enjoy the ride.
Snowy Owl Sled Dog Tours also offer snowshoeing & tobogganing, and a helicopter flight.
Address: 109 – 829 10th Street, Canmore, Alberta
Costs: Starts at $200 CAD
So that's a wrap! We hope this post was useful in helping you plan your winter trip to Canmore. Canmore is one of our favorites, and we are sure you will love it there!