9 Unique Places to Stay in Victoria BC
Are you getting ready to plan your next incredible getaway? Have you been dreaming of breathtaking sights, delectable cuisine, and the chance to experience something unique and memorable? Make your travels stand out by opting for unique places to stay in Victoria BC.
Situated on the southern tip of Vancouver Island and surrounded by nature, Victoria is home to many different unique accommodations. While some are conventional, others have a unique twist to them that adds to the fun of a trip.
From historic properties boasting castle views to those famous for their Victoria afternoon tea, the city is replete with unique hotels and accommodations.
Top Accommodation Picks: Unique Places to Stay in Victoria, BC
Disclosure: This post contains affiliate links. If you click one of them, we may receive a small commission at no extra cost to you.
The Fisherman's Wharf Floating Bed & Breakfast might be Victoria's most unique property. The unusual accommodation is a floating B&B set directly on the Victoria Harbor water.
The rental home is as much a tourist destination as it is a place to stay, with pets and smoking, allowed too.
While staying here, you'll be able to take in picturesque views of the harbor and the houseboats littered around the B&B. Despite its location in the ocean, you still have a private balcony and a seating area to soak up the sun and enjoy water views.
Between November and February, you can rent out an entire house, but only private rooms are available at any other time. All guest rooms come furnished with quality linens and towels. You also have free wifi, a KEURIG coffee maker for a great cup of joe, a kettle, a mini fridge, and more.
The property doesn't serve breakfast itself, but you'll be provided with a complimentary breakfast voucher at a nearby cafe. For the rest of the day, the houses are conveniently located close to all the food kiosks you'll need.
Ready to explore Victoria? Great, you can just hop aboard a Harbor Ferry taxi that stops right by your doorstep every 10 minutes — with stops like the whale-watching tours.
Alternatively, you can rent a bike, and it'll be delivered to your room. Nearby attractions include the Royal British Columbia Museum and Beacon Hill Park.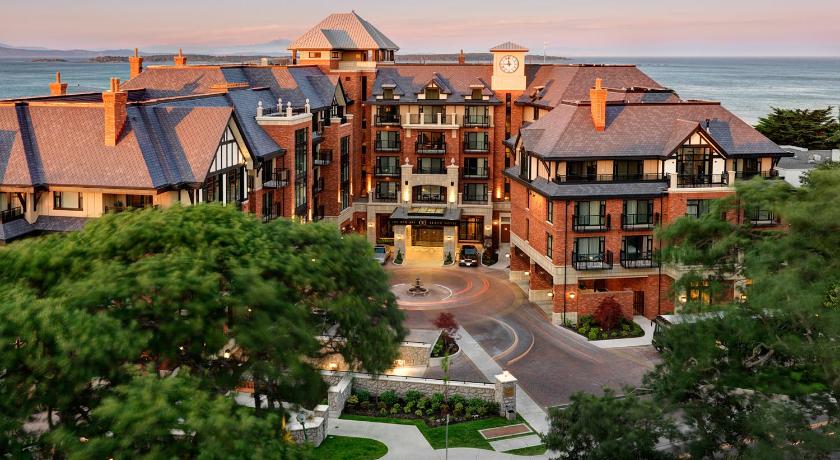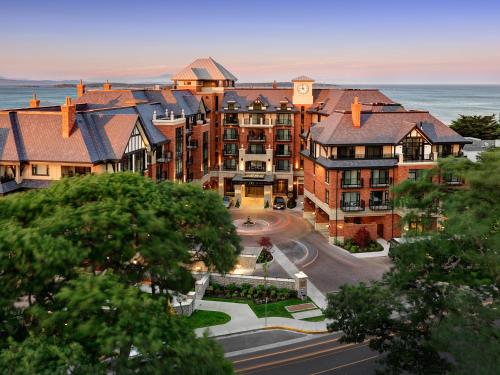 Unfortunately, Oak Bay isn't directly on the ocean, but it does sit on the edge of the Pacific Ocean. It's the ultimate embodiment of luxury, and you can bet you'll have a great time from just the awards and accolades they've racked up.
The luxury hotel architecture took inspiration from the English Manor House styles and has colorful flora scattered around the property. But what exactly sets this Victoria hotel apart from other properties?
The answer is their on-site spa. It's designed to be the ultimate haven of serenity, unavailable at any other hotels in Victoria, BC.
Oak Bay Beach Hotel is home to the only oceanfront spa in Victoria, the Boathouse Spa. While getting a revitalizing treatment, you can enjoy the sounds of the water lapping for a different kind of euphoria.
The range of oceanfront spa services here includes facials, reflexology, and Swedish full-body massages, amongst others.
Upgrade your experience to include a visit to the mineral pools overlooking the Salish Sea—the sunset views are mesmerizing. You also get access to the sauna and the Boathouse Kitchen & Bar for some light fare.
The Victoria hotel offers guestrooms offering views of the oak-lined streets or panoramic vistas of the Salish Sea. Each suite has spa-inspired bathrooms, free wifi, deluxe bathrobes, and a kitchenette waiting for you.
While here, you can take your taste buds on a culinary tour that stretches from the Pacific Northwest to Italy. Enjoy handcrafted pizza at FARO, a four-course meal with fabulous ocean views at the Dining Room, and classic burgers at the Snug Pub.
When it comes to an extraordinary experience, Hotel Zed Victoria is a perfect choice. The hotel offers an eclectic and vibrant atmosphere full of friendliness, modern comfort, and classic style.
Every room is artfully designed with cozy furnishings, breathtaking views, and plenty of amenities.
As soon as you walk in, you won't be able to miss the kaleidoscope of colors that add to a funky, fun property. Hotel Zed has a retro feel to it, so you'll find typewriters, original rotary phones, and vinyl recording stations in its lobby.
Despite what it may seem like, this isn't an adult-only Victoria accommodation — the whole family can take a step back in time.
Adding to the fun is a ping-pong table and retro games that will excite both big and little kids.
Guests' accommodation comes with a flat-screen cable TV and free wifi, and there's also a common terrace on offer. Take in the surrounding views while enjoying a complimentary morning coffee with a free newspaper or comic book.
Hotel Zed's list of amenities includes a hot tub and an indoor heated pool with a colorful pink waterslide splashing straight into it. You also get a colorful, retro VW bus shuttling you around from the property. Even better, you can ring for it to transfer you to the hotel from the Victoria Clipper.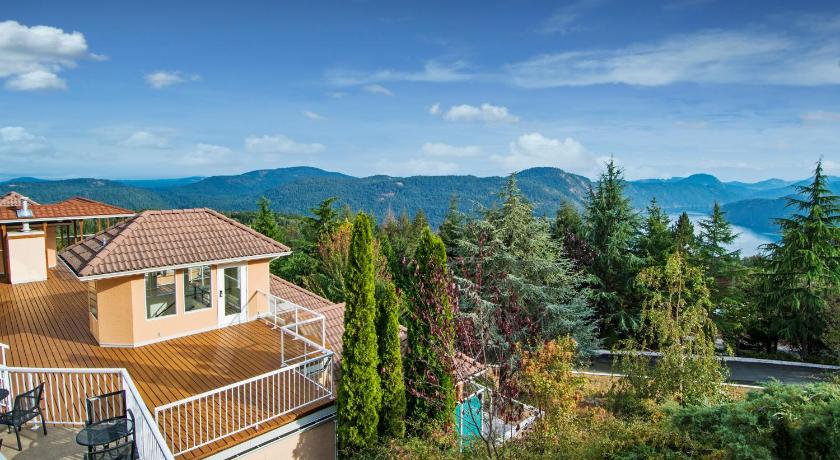 The Villa Eyrie Resort is one of the top getaways for luxury seekers. It is a fantastic boutique hotel located in the Malahat mountains, meaning it offers unique vistas that can't be found elsewhere. This includes views of the Saanich Inlet, the Olympic Mountains, lush greenery, and Mount Baker.
Taking inspiration from Lake Como, you'll find Italian architecture-inspired, elegant rooms with modern interiors. They come complete with additions like flatscreen HDTVs, free wifi, and a walk-in closet.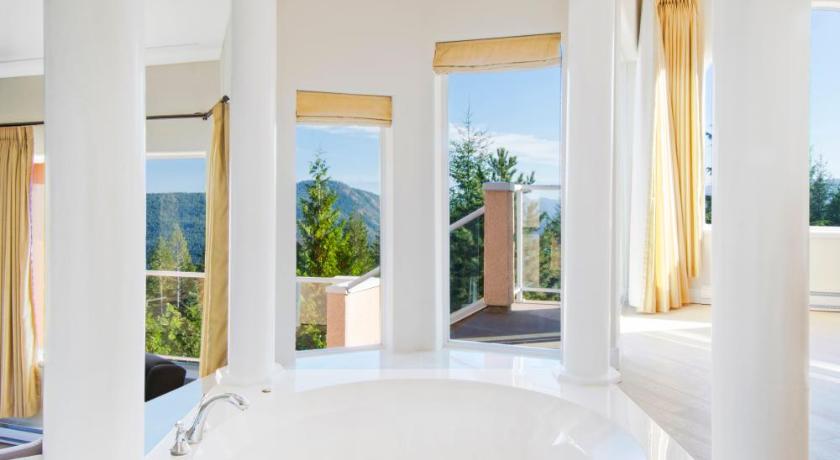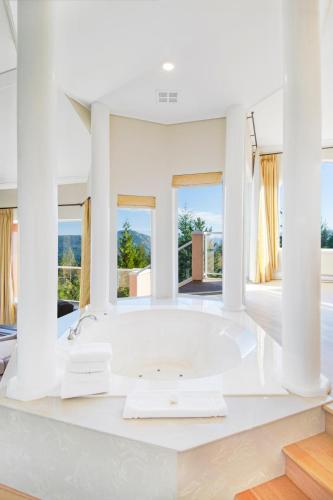 While the amenities play a great role, the true star of the show is the panoramic vistas of the river, forestry, and mountains.
The luxury hotel offers a bespoke experience at the Tuscan Spa, which has three different treatment rooms. Choose from a range of treatments, which are all performed while you enjoy coastal panoramas.
Views, views, views—that's one thing guaranteed at one of Victoria's best boutique hotels. You also get these sceneries when you visit the Alpina Restaurant. Tantalize your buds with a fusion of dishes from the Alpine regions of France, Italy, Germany, and Switzerland.
What else makes Villa Eyrie Resort unique? It's one of a few luxury hotels that allow you to bring your furry friends with you.
While most hotels in Victoria are embracing modern design and trends, the Amethyst Inn has stuck to its historic guns. It's unique in that coming here will feel like you've taken a step back in time.
Built in the 19th century, the property has kept its charm thanks to the Victorian-era decor found in each room. Its loyalty to the time is perhaps best seen on its exquisite staircase with green carpeting and antique furniture.
Choose from a variety of rooms, ranging from heritage rooms to garden suites. Depending on the room you choose, you can enjoy garden views, an antique fireplace, and an oversized king bed.
Each room comes with a flat-screen TV for entertainment. Alternatively, you can look to your phone for fun with free wifi available.
To ensure you start off your day just right, indulge in a gourmet breakfast. You'll have the choice between a full English, Irish, or American breakfast. Afterward, dive into the luxurious hot jacuzzi tub for a rejuvenating experience.
The Craigmyle is a heritage house facing the magnificent Craigdarroch Castle, an iconic Greater Victoria mansion.
At this B&B, you'll enjoy castle views right from the comfort of your hotel room. This is what makes the property unique, as there aren't any other elegant boutique hotels offering the same stay.
You're only steps away from the Craigdarroch Castle if you want to go for a tour. Plus, the hotel's property has a beautiful garden.
The owners have kept all of the house's heritage features intact, including gorgeous stained glass windows and the original staircase. Just beware, there are a lot of steps at this unique accommodation.
The spacious rooms offer scent-free linen and private ensuite bathrooms. Unfortunately, not every room comes with a TV, so if you love flicking on the screen, note this when booking.
Start your day off right with a continental breakfast, including gluten-free options. After breakfast, you can prepare your own snacks and meals in the well-equipped kitchen,
Thanks to its great location, you are only a few minutes away from downtown Victoria. You'll be close to many other excellent tourist destinations, including Royal BC Museum, the Inner Harbor, and the Government House.
The Fairmont Empress Hotel in Victoria, British Columbia, is a stunningly beautiful property located along Victoria's famous Inner Harbour.
Guests of the Fairmont Empress are in for a luxury stay. Expect quaint guest rooms with elegant furnishings and views of the harbor, the gardens, or downtown Victoria.
To add to your stay, you can make use of babysitting services and bring along your pets with you. Relax and treat yourself at their full-service spa, then enjoy fine dining experiences at one of the many onsite restaurants and cafes.
What sets this property apart from others is a single offering: its tea. Guests descend here by the dozens to try Fairmont's famous afternoon tea. This is a century-old tradition of loose-leaf teas served in royal china crockery, which was a gift from the late Queen Elizabeth II.
So, don't miss out on your chance to be treated like royalty.
Another Downtown Victoria favorite is: Inn at Laurel Point
In case you've never heard of it, Fort Rodd Hill National Historic Site is a place popular for its showcase of military fortifications.
Visitors journey here to marvel at these 19th-century structures and learn about the role the area played in protecting the Esquimalt Harbour entrance.
That includes the Fisgard Lighthouse, Canada's first West Coast lighthouse, which has withstood several disasters.
While seeing these grounds during the day is great, how about staying a night or two for a truly unique experience? Thanks to oTENTik, an innovative Canadian company, you can spend your evenings in a former war territory.
The company has made it even easier to explore these iconic sites with its unique hospitality solution.
The place is dotted with oTENTik tents, which blend traditional camping with modern amenities for homey comfort with an outdoor appeal. Each A-frame tent comes with comfortable bedding, a canopy-covered private patio area, cooking and serving equipment, and more.
Outside your tent, you can cook up a delicious BBQ before playing some complimentary board games.
During your stay, you'll be free to explore everything at Fort Rodd Hill with no limitations.
9. Yurts at Merridale Cidery & Distillery
If you're looking for a unique glamping experience, Merridale Cidery & Distillery is the perfect destination.
With its tranquil rolling hills, heritage orchards, and pastoral surroundings, the Merridale Estate offers a luxury escape from the hustle and bustle of city life. However, wifi will keep you in touch with the outside world.
Nestled in this peaceful setting are yurts made with comfort and leisure in mind. They come complete with hardwood floors and amenities like plush furniture, a gas fireplace, and full bathrooms.
The rustic yet modern wooden-framed tents also have a patio to step out onto as you gaze at the night sky while the stars dance in the dark.
The Merridale also has a farmhouse eatery that has farm-to-table cuisine made of the freshest ingredients.
You can enjoy the delicacies on offer while overlooking the orchard meadow. They have both vegetarian and gluten-free goodies. Being a cidery and distillery, you can enjoy each mouthwatering meal with a cider or spirit of your choice.
From time to time, the property does have live music performed on the patio for an entertaining day. Otherwise, you can go on alcohol-tasting tours that include ciders and spirits.
Do note, though, that the yurts are only available between April and November.
Victoria Travel Tips
Victoria is the capital city of British Columbia. It is a beautiful city located on Vancouver Island.
Victoria is a popular tourist destination for its mild climate, scenic views, and outdoor activities. In planning a trip to Victoria, there are a few things to consider.
Firstly, the best time to visit Victoria is in the spring or late summer months. This is when the weather is mild and there are fewer tourists in the city.
Secondly, transportation should be considered for traveling around Victoria. There are several options available including buses, taxis, ferries, and car rentals to get to the city. When in the city, you can get by walking, or taking the water taxi to different sightseeing attractions.
Thirdly, accommodations should be booked ahead of time. As compared to many other Canadian cities hotels in Victoria downtown can get very expensive during the peak summer months, and can also be sold out months in advance.
Final Thoughts on Unique Accommodations and Hotels in Victoria, BC
If you find yourself in Victoria, BC, and are looking for an unforgettable place to stay, be sure to check out any of these unique accommodations. From luxury suites located at mountaintops to floating houses, there's something for everyone.
Now, book your stay and get ready to enjoy Victoria like never before — you won't be disappointed!
Tip: Enhance your knowledge of the area by checking out these facts about Victoria, BC.
Pin: Best places to stay in Victoria Vancouver Island | Unusual Hotels Victoria